RETAIN YOUR EDGE, RAISE YOUR ENERGY.
This powerhouse bundle helps keep your body and mind perfomance. It supports your immune system, healthy energy levels, brainpower, naturally detox your body and restores the joints mobility. Knock down the enemy of all good vibes - AGING.
Can't believe how long I've lived without this!
Best ingredients and NO Magnesium Stearate.
I have not been taking this very long, but it seems to be helping. I have Rheumatoid arthritis and for me the key is to keeping inflammation in check. Going to check with Dr on long term use. Excellent brand.
Great ingredients for natural pain relief
My family is full of atlethics and that comes with a multitude of muscle and joint pain. I was really happy to come across this product because it has very organic and natural readable ingredients that I feel comfortable with my family eating. I'm looking forward to using it for its anti inflammatory properties for shoulder, back and leg pain. Thank you for a well crafted and necessary product =)
I have used moringa as a loose tea leaf. When I am on the go , it is hard to bring it it with me. Having it as a capsule is very convenient. This product has such a high quality. The power is still green like fresh leaves. Some company has it more yellowish. Highly recommended.
Boswellin Super:

The gold standard of all Boswellia Serrata Extracts available in the market with 75% boswellic acids and 30% AKBA. Researches found that AKBA is the only Boswellia compound that actually heals the cartilage and inner tissue.

Ginger Extract:

Provide a natural comforting effect and support gut health (5% Gingerols)

Bioperine:

Dramatically increase bioavailability absorption (95% Piperine)

K-CAPS:

Easy swallow and vegan certified capsules without harmful ingredients or additives.




100% NATURAL & DRUG-FREE:

NO Magnesium Stearate, NO Stearic Acid, NO Dioxides, NO Sulfates, NO Artificial Ingredients, No Preservatives, No fillers or Binders. NO adulteration with low-quality extracts.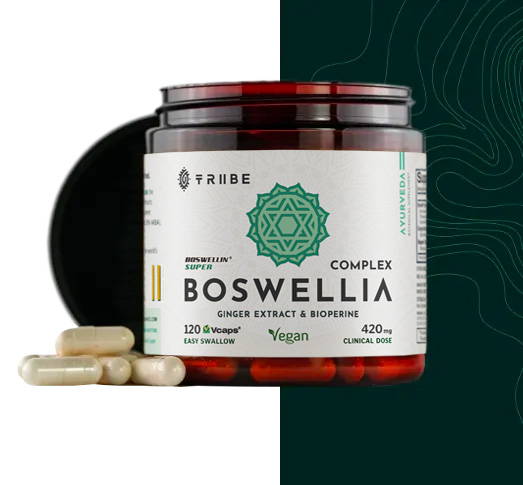 Moringa:

TRIIBE brings you the purest and healthiest organic Moringa leaf powder, mindfully harvested in India, sustainably produced in the USA in a GMP certified facility, and tested for purity and safety in a third party laboratory. This ingredient is USDA Certified Organic, Kosher, Non-GMO, Gluten-Free and it is suitable for Vegans and Children.




K-CAPS:

Vegan certified capsules without harmful ingredients or additives.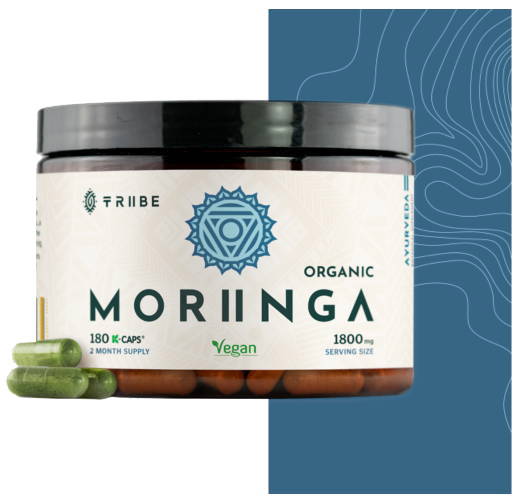 Boswellia Complex Benefits
Fight inflammation, OA and RA
Prevents cartilage loss and promotes its regeneration
Provides joint pain relief

Improves joint health and mobility

Promotes a healthy respiratory system
Promotes healthy-looking skin
Improves digestive tract health
Protects the immune system
Improves bone health
Supports female reproductive health
Boosts Energy and Metabolism.
Stimulates the Nervous System.
Improves Cardiovascular Health.
Powerful Detoxifier.
Helpful in Managing Overweight and Obesity.
Improves Vision Health.
Promotes Liver Health.
Improves Skin, Hair, and Nails Health.
Boosts Immune System.
Promotes Proper Bowel Movements and Intestine Health.
Improves Digestive Strength.
Excellent Alkaline and Diuretic.
Helpful in Problems related to Menstruation.
THE MIRACLE TREE:

Moringa leaf powder is one of the most nutrient-dense plants on the planet with 27 vitamins, 9 essential amino acids, 46 antioxidants, a high concentration of protein, and numerous minerals and essential nutrients. This superfood provides 7 times more vitamin C than oranges, 10 times more vitamin A than carrots, 17 times more calcium than milk, 9 times more protein than yogurt, 15 times more potassium than bananas, and 25 times more iron than spinach.



SERVING SIZE: 1800mg / 3 Vegan Capsules of 600mg
SERVINGS PER CONTAINER: 40
RECOMMENDED DOSE: Take 2-3 Vegan capsules daily.
As a dietary supplement, does not induce instant response like extracts or medicines. This is because they are digested, absorbed, and utilized like any other food in the body. We bring you the lowest effective dose to easily increase or decrease the dosage depending on your metabolism needs.
We all respond to supplementation differently, not only in how it affects us, but also how quickly it effects us. When you first start taking Tribe Organics Boswellia, we recommend taking the product at the recommended dose (2 capsules daily) for a solid 2 weeks before deciding whether or not it's working for you. After two weeks, you might want to increase the dose one capsule more and add it to your morning routine.
Following traditional Ayurvedic methods, we suggest taking the product for 2-3 months and then pause for a few days to give the body rest. Tribe Organics Boswellia can be taken with or without food.

SERVING SIZE: 1800mg / 3 Vegan Capsules of 600mg
SERVINGS PER CONTAINER: 60
RECOMMENDED DOSE: Take 2-3 Vegan capsules daily.
For healthy individuals, a couple of capsules of Moringa leaf powder can be added to any smoothie or meal to make it more nutritious. Since the nutrient content of Moringa leaf powder decreases if exposed to heat, add the powder after the food or drink has been prepared, just before serving. If you use the Moringa leaves powder for tea, you can reuse the moringa powder. Collect the moringa powder after making the tea and for example use it for a milkshake, salad or soup.

TRIIBE contributes 1% of its annual revenue to 1% for the Planet, a global organization committed to supporting environmental causes that save the planet. As a member, TRIIBE will contribute to education, reforestation, and climate solutions.
"What we are doing to the forests of the world is but a mirror reflection of what we are doing to ourselves and to one another."
- Mahatma Gandhi -
We provide personalized assistance to give you an in-depth understanding of the product specifications and help you with your particular needs as well as your concerns, queries, or ideas. and if you don't notice a difference within 90 days, just let us know and we'll refund every cent. With Tribe Organics you have nothing to lose.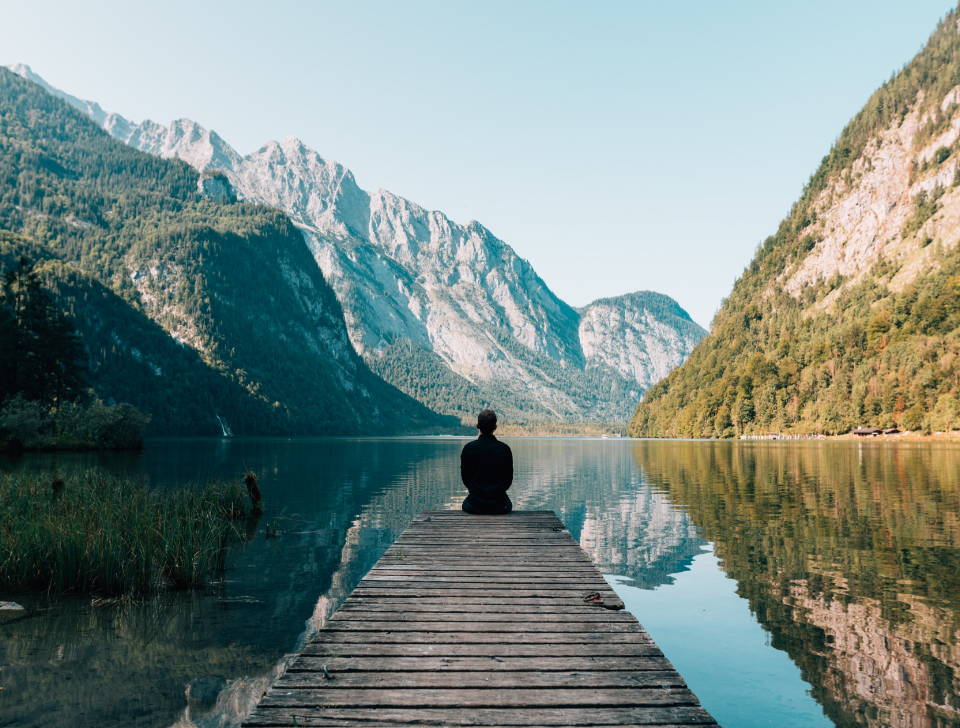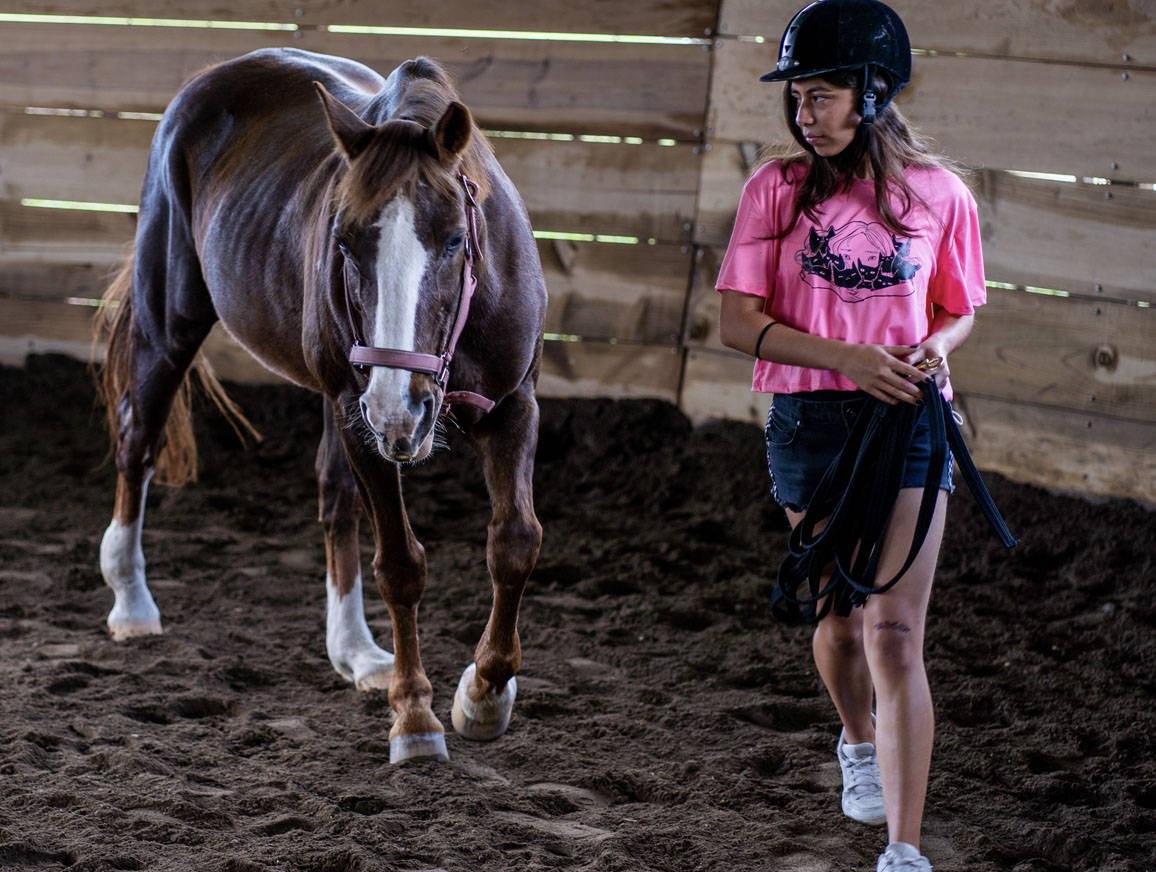 TRIIBE Organics contributes 1% of its annual sales (not just profit) to 1% for the planet, a global organization committed to supporting educational and environmental causes that help the planet and its inhabitants.
As a member, TRIIBE has contributed with LEAD-UP INTERNATIONAL and LEAD-UP GUATEMALA, non profit organizations that seek to close gaps and break the cycles of violence and poverty and contribute to a more peaceful a sustainable world through innovative interactions with horses to empower young leaders.