We ship internationally to the following countries:

Australia
Belgium
Canada

Croatia
India
Indonesia
Ireland
Israel
New Zealand
Oman
Singapore
Swiss
Thailand
United States
United Kingdom
Please, contact us to add your country to the list.
INTERNATIONAL SHIPPING POLICY
All prices on our site are in US dollars. Your credit card company will bill you with your local currency at the current exchange rate.
All international orders are shipped with UPS, DHL or FEDEX. Your order will arrive 15-45 business days after the order is placed.
We do not refund original shipping charges for international order returns for products that are refused by customs to enter the country.

When ordering outside of United States of America, the recipient is responsible for assuring the product can be legally imported to the destination country.
The recipient is the importer of record and must comply with all laws and regulations of the destination country. The recipient of an international shipment may be subject to import taxes, customs duties and fees, which are imposed once a shipment reaches the recipient's country. Additional charges for customs clearance must be fulfilled by the recipient. Tribe Organics has no control over these charges, nor can Tribe Organics predict what they may be.
Customs, duties, and taxes are non-refundable: so a shipment that is refused because of unexpected import fees, the cost of the original shipping and any return shipping charges will not be refunded. Customs policies vary widely from country to country; you should contact your local customs office for more information before purchasing. When customs clearance procedures are required, it can cause delays beyond our original delivery estimates.
According to 2022 International carrier policies, every order should have a phone contact number and an accurate address. We strongly recommend to add your availability and delivery instructions to avoid shipping issues.
If you have any questions regarding your international order, please contact us at info@tribe-organics.com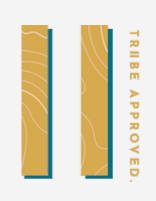 TRIIBE mindfully selects the highest-grade ingredients and sustainably produces premium herbal and mushroom supplements from ancient traditions for the pace of modern living.