UNFOLD YOUR
HEALING POTENTIAL
Reduce inflammation and joint pain.
Promote tissue regeneration. Promote healthy digestive and respiratory systems.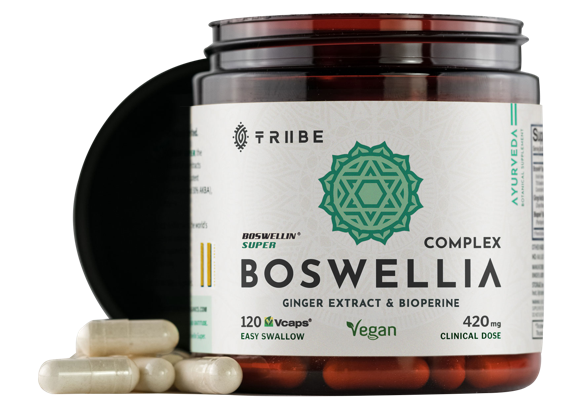 PROTECTION AGAINST ILLNESS
Boswellia Serrata, also known as Boswellia or Indian frankincense, has been in use for thousands of years as an aromatic resin and powerful joint support. Native to India, traditional Boswellia resin is procured from the plant's tree sap. The resin includes a high concentration of boswellic acids, which are thought to give this Ayurvedic compound its useful health properties. In traditional Ayurveda, Boswellia is considered the highest quality herb when it comes to the affinity of joints, for its ability to help regulate the supply of blood flowing to the inner tissue, reducing inflammation. It is believed to boost the body's process of healing while helping support normal joint and muscle health. This herb also nourishes the immune system and promotes a healthy digestive and respiratory system.
The resin's numerous health benefits have contributed to its widespread use among all ages.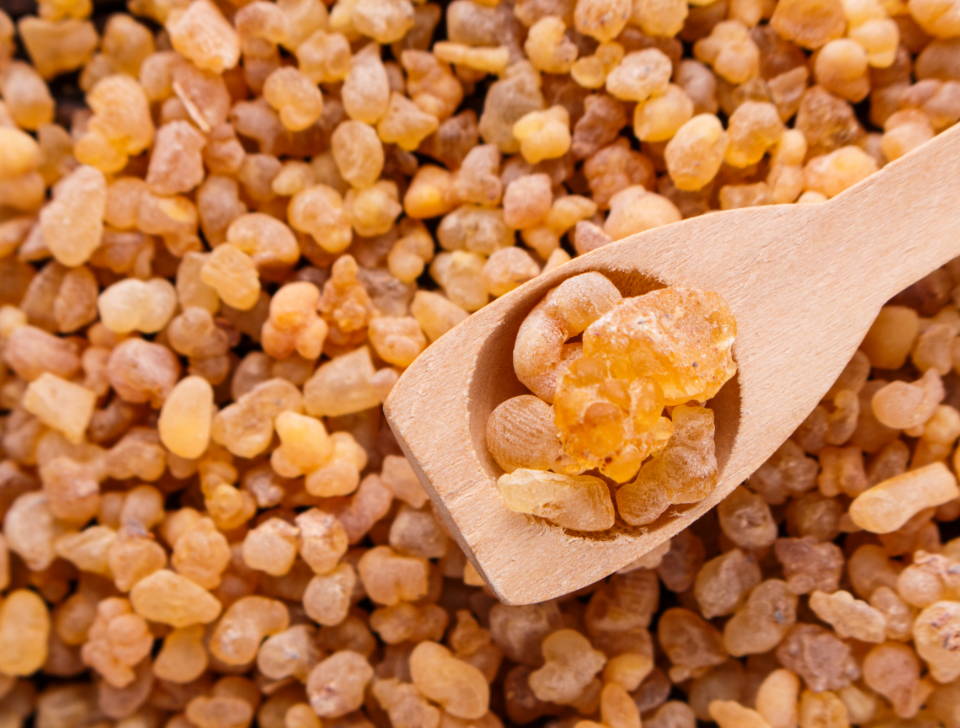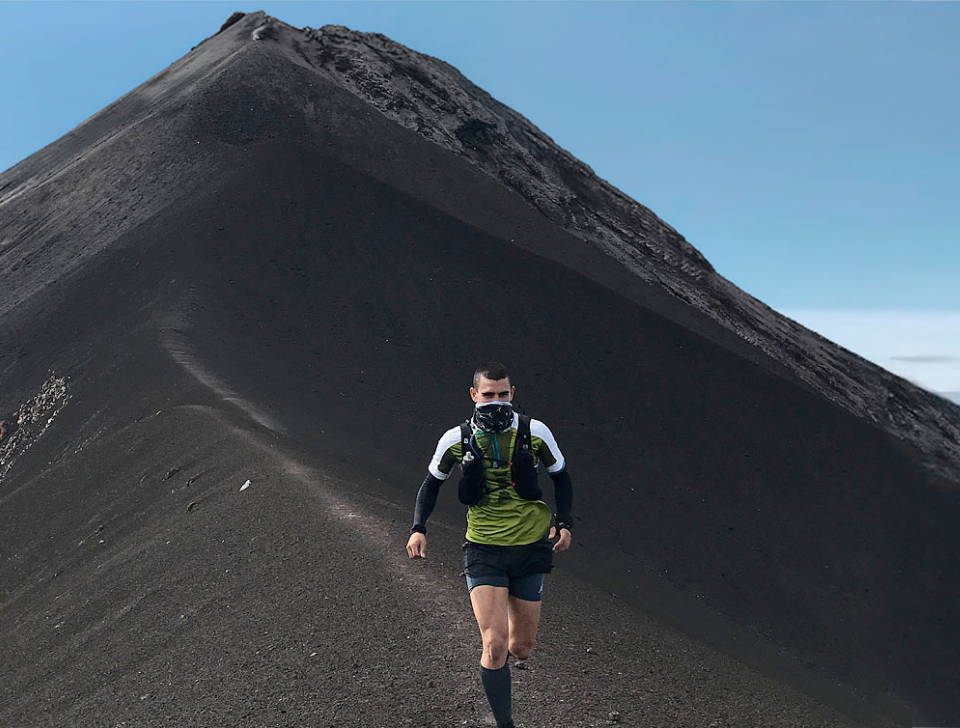 Research shows that boswellic acids can prevent the formation of leukotrienes in the body. Leukotrienes are molecules that have been identified as a cause of joint and respiratory discomfort. Four acids in Boswellia resin contribute to the herb's potency, and one of the most powerful of all the boswellic acids is the Acetyl-11-keto-β-boswellic acid (AKBA) for its regenerating capacities.
Boswellia may interact with and decrease the effects of some medications. Talk to your doctor before using Boswellia products, especially if you're taking other medications.
BOTANICAL ORIGIN OF BOSWELLIA SERRATA
The Boswellia Gum resin is tapped from the incision made on the trunk of the tree, which is then stored in specially made bamboo baskets. The semi-solid gum-resin is allowed to remain in the basket for about a month during which its fluid content locally known as 'ras' keeps flowing out. The residue, semi-solid to solid part, is the gum-resin which hardens slowly into amorphous, tear-shaped products with an aromatic scent. Then, it is broken into small pieces by wooden mallet or chopper and during this process all impurities including bark pieces etc. are removed manually. The gum-resin is then graded according to its flavor, color, shape and size. Generally four grades i.e. Superfine, Grade I, Grade II and Grade III are available in the market. The fresh gum obtained from the tree is hot with pleasant flavor and slightly bitter in taste.

CLINICALLY PROVEN BENEFITS
Fights Inflammation, RA and OA

Provides joint pain relief

Improves joint health and mobility

Promotes cartilage regeneration

Protects the immune system
Improves digestive tract health

Promotes a healthy respiratory system

Supports female reproductive health

Promotes healthy-looking skin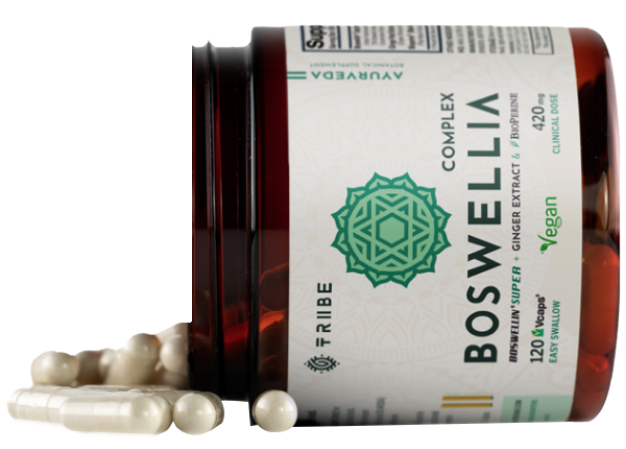 We selected the highest grade of all boswellia extract on the market to bring you the optimum complex for joint support. BOSWELLIN SUPER is the only full spectrum Boswellia Serrata extract that maintains all the anti-inflammatory bio-actives; standardized to 75% boswellic acid concentration and 30% AKBA, which is the only Boswellia compound that actually heals the cartilage and inner tissue according to scientific researches. Formulated with Bioperine (Black Pepper Extract) to enhance bioavailability absorption and Ginger Root Extract to provide a natural analgesic effect and support gut health.
BOSWELLIN has more than 30 scientific studies and proven data to confirm that is the best natural treatment for arthritis, osteoarthritis, join pain relief and join support, acting as a powerful anti-inflammatory


Boswellin Super features:
- 100% Natural.
- No Excipients.
- No Preservatives.
- Enhanced AKBA content than regular Boswellin®
- Standardized to 75% Boswellic Acids and 30% AKBA.
- Contains Full-Spectrum Bio-active compounds from Boswellia Gum.
- Contains both the hydrophilic and lipophilic fractions of Boswellia Gum.
- More than 42 years of research and proven studies.
Boswellia Complex contains 120 capsules easy swallow VCaps certified vegan capsules.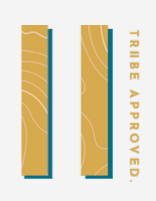 TRIIBE ORGANICS mindfully selects the highest-grade ingredients and sustainably produces premium herbal and mushroom supplements from ancient traditions for the pace of modern living.
Premium Full- Spectrum Extract
75% Boswellic Acids, 30% AKBA
Full-Spectrum Root Extract
Boswellin Super is the only Full-Spectrum Boswellia Serrata extract which maintains all the bio-active compound from Boswellia Gum, as well as the large suite of bio-actives found in the raw root, leading to a higher clinical efficacy, clinically proven through more than 40 years of research and scientific studies.
Boswellia herb's efficacy is derived from a complex blend of active constituents called Boswellic Acids. Boswellin Super is the Gold Standard of all Boswellia Serrata Extract available in the market to create a standardized extract with 75% Boswellic Acids and 30% AKBA. TRIBE is going one step beyond other brands with this Boswellia Complex. We formulate it with Bioperine (Black Pepper Extract standardized to 95% Piperine) to dramatically enhance bioavailability absorption and Ginger Root Extract to provide a natural comforting effect and support gut health.
Vegetarian Capsules VCAPS
TRIIBE V-Caps capsules are vegetarian-grade with NO animal-based gelatin, non-GMO Project verified, and Kosher certified. They are Preservative Free, Allergen Free, Gluten Free, Sugar Free and Starch Free.
As a dietary supplement, does not induce instant response like extracts or medicines. This is because they are digested, absorbed, and utilized like any other food in the body. We bring you the lowest effective dose to easily increase or decrease the dosage depending on your metabolism needs. We all respond to supplementation differently, not only in how it affects us, but also how quickly it effects us. When you first start taking Tribe Organics Boswellia, we recommend taking the product at the recommended dose (2 capsules daily) for a solid 2 weeks before deciding whether or not it's working for you. After two weeks, you might want to increase the dose one capsule more and add it to your morning routine.
TRIIBE uses ONLY the Boswellin Super with NO adulteration by other Boswellia extracts for maximum clinical effectiveness.
Boswellin has more than 30 scientific studies and proven data to confirm that is the best natural treatment for join discomfort and relief. https://boswellin.com/research-highlights/1972-to-1989/
BEYOND JUST MEDICINAL HERBS
We performed an Exhaustive Research to Find the Most Beneficial Ingredients Supported by Science.
We use specialized, premium ingredients to ensure products flow properly through manufacturing equipment. Also, our manufacturing unit of is pharma-grade, with clean room facilities using world-class production and quality assurance processes. We go above and beyond standard testing protocol to guarantee that the product has the accurate potency, ingredients free of contaminants such as Mold, bacteria and salmonella, as well as testing every single ingredient for Heavy metals.
The manufacturing unit of Tribe Organics is stablished in the USA. We adhere to the Good manufacturing practice guidelines regulated by the FDA, also known as GMP. In addition to the standard FDA guidelines, our manufacture is third-party certificated, ensuring the quality and safety of the products, also tested for heavy metals and microbiology.
* These claims are related to the ingredient
Can't believe how long I've lived without this!
When I came across this brand and this product in particular, what called my attention was their form of Boswellia called "BOSWELLIN SUPER". After doing some deep research I decided to give it a try.
It took about 2 weeks to 'kick in', but the pain and stiffness I would wake up with, in my hand, has steadily lessened.
Best ingredients and NO Magnesium Stearate.
I have not been taking this very long, but it seems to be helping. I have Rheumatoid arthritis and for me the key is to keeping inflammation in check. Going to check with Dr on long term use. Excellent brand.
Amazing - Best pain reliever
Amazing Amazing...!!! My whole experience with pain has changed. I deeply regret not having found this earlier....years ago. As someone who cannot take Tylenol or ibuprofen, this would have been a life saver.
There are many studies on It. I am able to function so much better with this. I take it 2x a day and am shocked ....literally shocked at how much more fluid my movements are. I felt it's "miracle powers" working within 45 minutes and they last for about 3-4 hours.
This mixture of ingredients worked wonders for me
I have RA and this jan diagnosed with osteoporous. pain and inflammation unless I took drugs that are harmful, was constant.with the taking of this product, I had relief the first day of 2 doses. has worked well in allowing me to be more active, and decrease in swelling and pain. thank u for this wonderful product
When it comes to dietary supplements, there is a major problem with the way most are being produced. Most Dietary supplements contain harmful substances, such as magnesium stearate or silicone dioxide and a long list of others. These added ingredients are used by most manufactures in order to speed up the manufacturing process and save money at the expense of the consumer's health. Yes, you heard me right. Dietary Supplement Companies are putting your health at risk so they can maximize their profit margins.
In addition to these harmful excipients being added during the manufacturing process, recent studies and close examination of many supplement brands has shown that the potency and dosage that are listed on the supplement facts are not always what you are getting.
With TRIIBE ORGANICS, you can rest assured that our products are 100% free of any harmful additives and guaranteed to deliver the listed ingredients and potency, without putting your health at risk.
Our purity process ensures that you are getting exactly what you are promised. We are willing to significantly increase production times and not cut corners to save on production costs.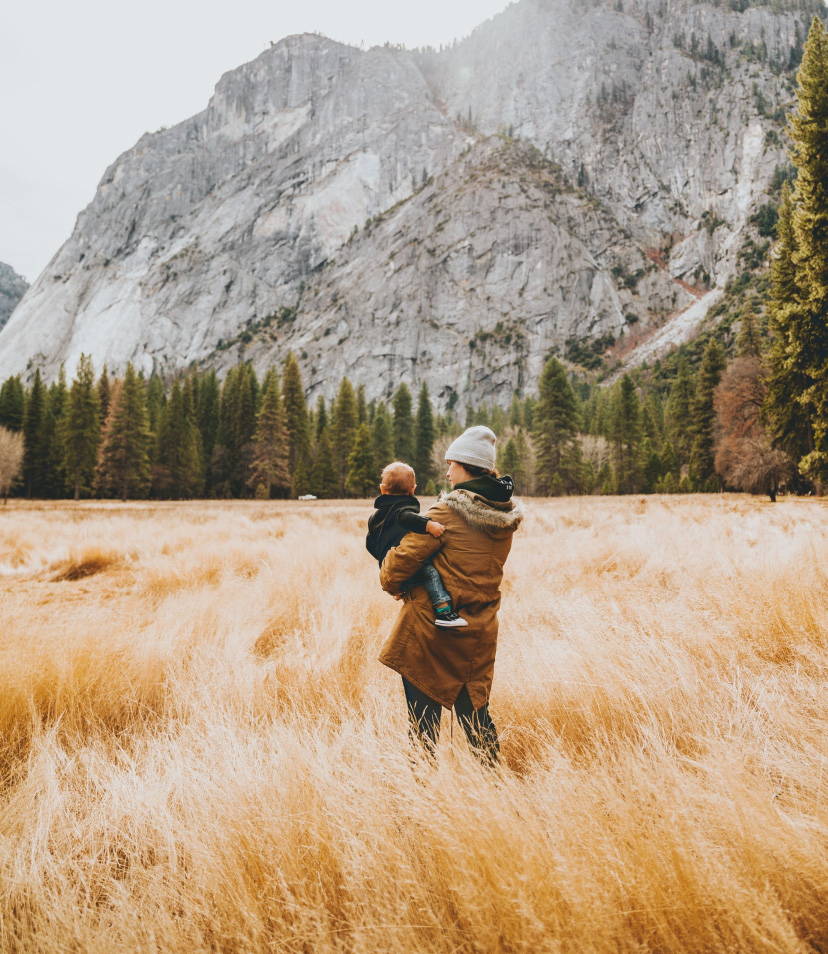 FREQUENTLY ASKED QUESTIONS
What is the perfect dosage for me?
We all respond to supplementation differently, not only in how it affects us, but also how quickly it has effect on us. When you first start taking out Boswellia Complex, we recommend taking the product at the recommended dose (2 capsules daily) for a solid 2 weeks before deciding whether or not it's working for you. After two weeks, you might want to increase the dose one capsule more and add it to your morning routine.
Following traditional Ayurvedic methods, we suggest taking the product for 2-3 months and then pause for a few days to give the body rest. Tribe Organics Boswellia can be taken with or without food.
How long to notice results with this particular product ?
Usually, it takes 2-8 weeks to have noticeable results taking this supplement.
What is the capsule made of?
TRIIBE only uses high-quality pharma grade HPMC capsules, plant-based, free of preservatives, allergens, and starches. K-CAPS® are Non-GMO, Kosher, and Halal certified and registered by the Vegan Society, providing health-conscious consumers with a natural alternative to animal-derived capsules. More info on Kcaps.com
Can Boswellia be used to prevent Cancer?
What are the side effects of Boswellia?
Boswellia usually doesn't cause important side effects. However, some people who took it reported stomach pain, nausea, heartburn, itching, headache and swelling. Please, consult your healthcare professional before taking this supplement.
What is the best way to store Boswellia Complex?
Please keep this product stored in a cool, dry place in an air-tight container away from direct sunlight.
Who should not take Boswellia Complex?
While Boswellia Serrata has many benefits, there are some people who may not be able to use it, such as women who are pregnant or breastfeeding, people under some medications or conditions.
If you have gastritis or gastroesophageal reflux disease (GERD), you may not be able to take Boswellia Complex. Please consult your health care professional if you are pregnant, breastfeeding or under any medications.
Do I need to take this product with food?
Yes, the key compound in Boswellia Serrata extracts, AKBA, is fat-soluble and not well absorbed if taken only with water or on an empty stomach. Taking Boswellia Complex with fatty foods may greatly increase absorption. Also, you might have noticed that our formulation includes Black Pepper Extract which helps enhance its bioavailability.
Taking it with food may also prevent the potential stomach irritation that you may experience by taking supplements that have Black Pepper Extract on an empty stomach.
The Root Chakra or Muladhara is the energy center that constitutes the foundation of the human system, physical structure and energy body. Unless the Muladhara is stabilized, one will not know health, well-being, and a sense of stability and completeness.
In Ayurvedic philosophy, it is said that Ashwagandha increases the circulation of Ojas, loosely translated as life force energy, which is the vital subtle energy that food is converted to and that fuels our body, mind and spirit. Correlating to the idea of Jing (vital essence) in Chinese Medicine.
Ashwagandha restores the fundamental energies in the body increasing overall well-being, and literally regenerating and rejuvenating the body from the inside out.
Ayurvedic practitioners have traditionally used Ashwagandha to balance, strengthen and open the root chakra, making it a useful herb to support various spiritual practices concerned with Kundalini and balancing the energetic systems of the body.