ORGANIC
LION'S MANE MUSHROOM
Support mood. Reduce stress and anxiety. Promote focus and brain cell regeneration. Strengthen your heart.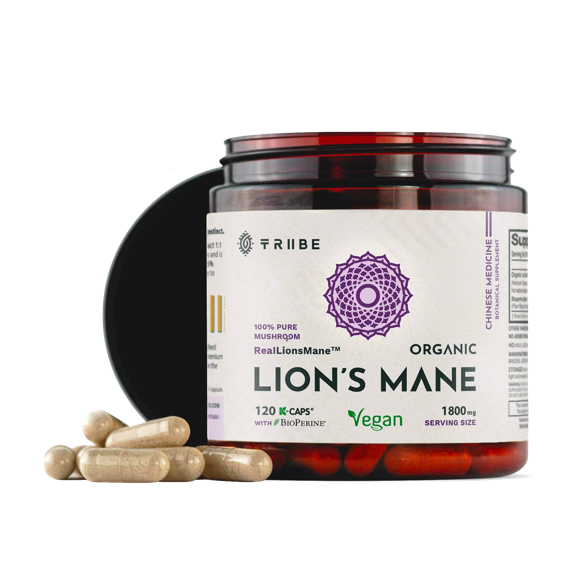 Lion's Mane Mushroom is also known as Hericium Erinaceus, Yamabushitake, Hedgehog mushroom, and Hou Tou Gu. With roots in Traditional Chinese Medicine (TCM), this powerful adaptogen has been used as medicine for thousands of years. Historically, it was reserved for royalty and cherished for its cognitive power by Buddhist monks.
According to TCM, it is nutritious for all five internal organs – liver, spleen, lung, heart, and kidney. Hou Tou Gu, as they refer to it in China, was historically used to fortify the spleen, nourish the gut, and even fight cancer. The mushroom is also hailed to combat the deficiency of Qi, or "life force".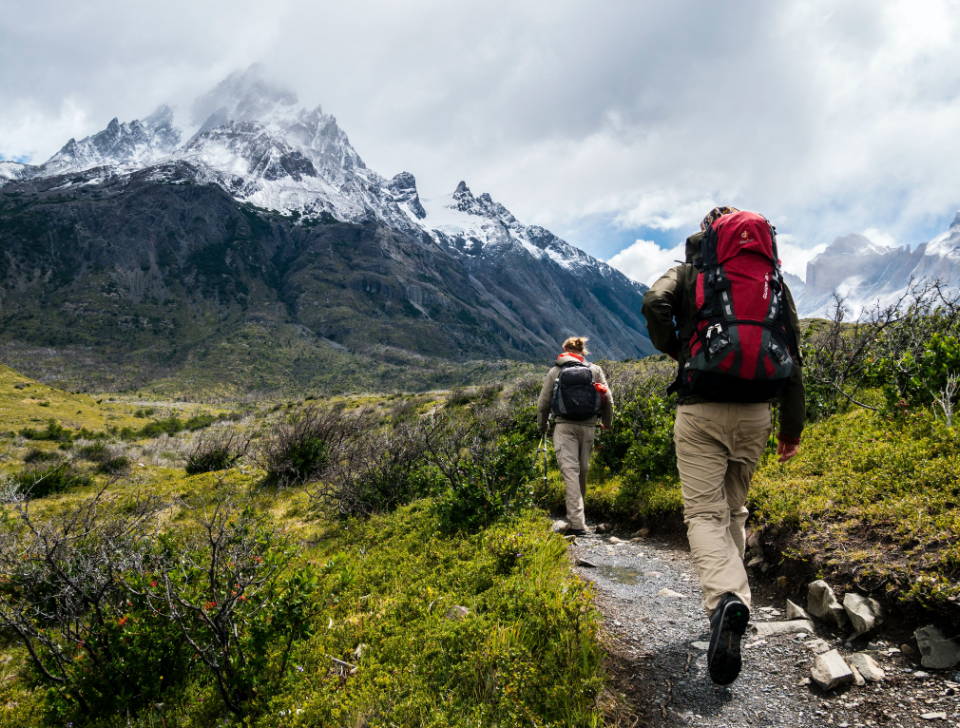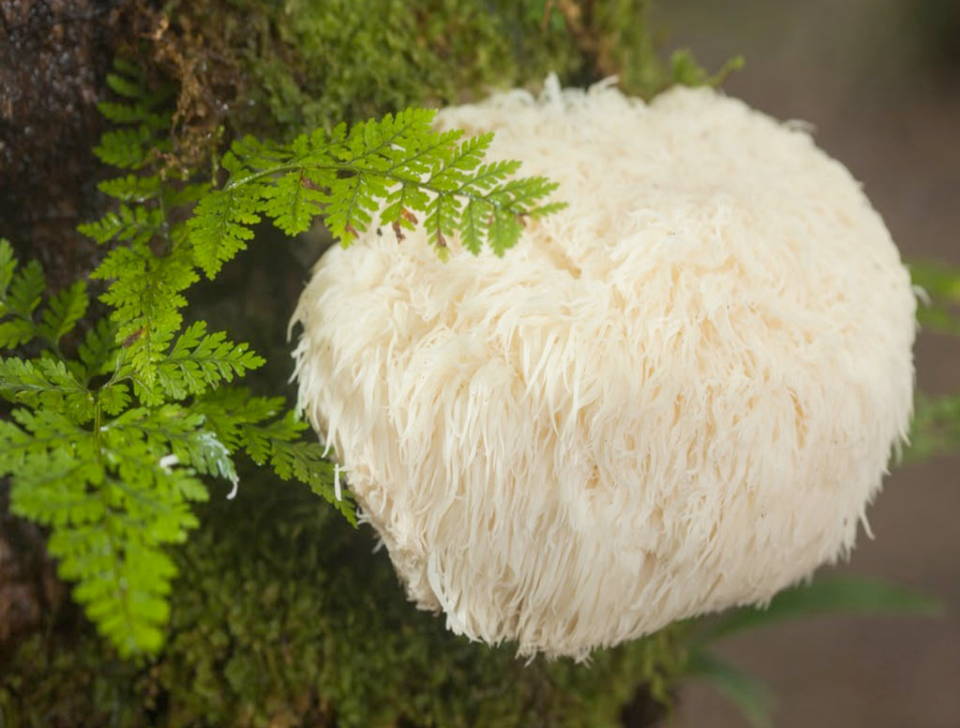 Mycelium is the vegetative body for fungi that produce mushrooms and, in some cases, species of fungi that never produce a mushroom. When compared to a plant, mycelium is the root system and the mushroom is the flower. Wild grown Lion's Mane fruiting bodies contains high levels of nutrients without a lot of calories. This nutrient density makes this mushroom a superfood suitable to include in any healthy dietary pattern. In terms of quality, fruiting bodies offer a much more effective, high-quality product than mycelium grown on grain extracts, because they provide a wider array of the mushroom's nutritional components. For this reason extracts using fruiting bodies are considered "full spectrum".
Lion's Mane Proven Benefits
Support the immune system.


Reduces stressors in the body.

Boost cognitive performance and focus.

Prevents death of brain cells and neurons.

Promotes brain cells regeneration.

Helps reduce stress and anxiety.
Reduces levels of a harmful plaque in the brain.

Support nervous system health.

Promotes gut healing and digestive health.

Reduces inflammation and oxidative stress.

Reduces heart disease risk.

Supports healthy blood sugar levels.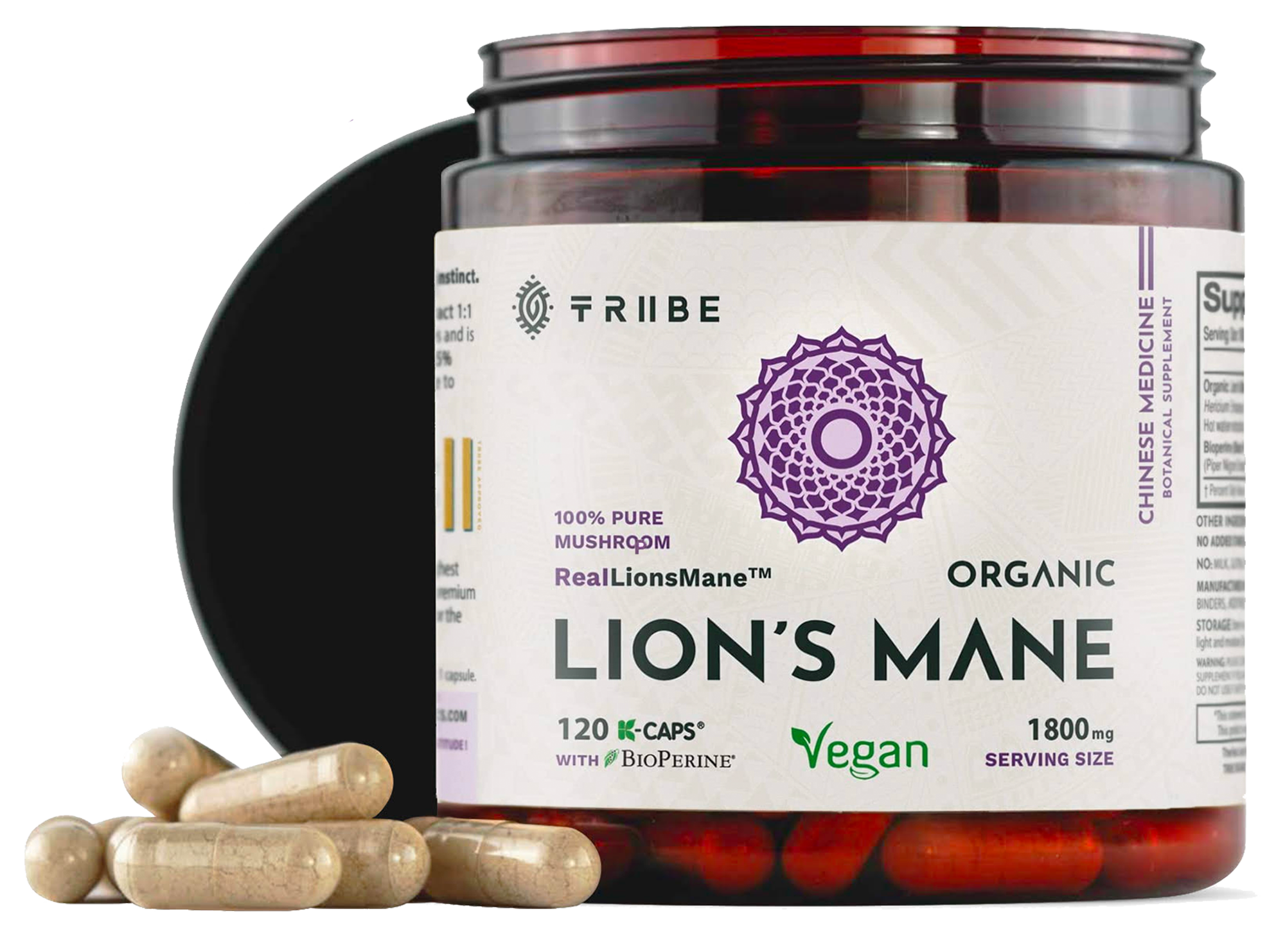 100% Pure Mushroom Extract Capsules
TRIIBE Lion's Mane is grown or wildcrafted deep in the mountains of China by our Certified Organic production partners Nammex.

This is not the typical US lab-grown Lion's Mane mycelium grown on grain (which is not mushroom). TRIIBE only sources material made from 100% organic fruiting bodies which are processed by purified hot water extraction and rigorously tested and guaranteed for active compounds. The result is a 100% pure extract 1:1 with more than 25% Beta-Glucans (Hericenones and Erinacerins). In addition, it is formulated with Bioperine to enhance the absorption of nutrients.
This ingredient is USDA Certified Organic; Kosher; Vegan; Gluten-free; Non-GMO, and it is tested for purity and safety in a third party laboratory in USA.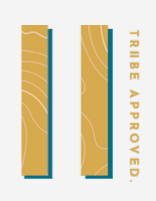 TRIIBE ORGANICS mindfully selects the highest-grade ingredients and sustainably produces premium herbal and mushroom supplements from ancient traditions for the pace of modern living.
Pure Mushroom Extract 100% Made With Organic Fruiting Bodies
TRIIBE Lion's Mane is sustainably harvested without chemicals and water extracted following "Green chemistry" principles. It is USDA Organic, EU Organic and Canada Organic.
Full-Spectrum Root Extract
The use of 100% Fruiting Bodies leads to a full-spectrum extract, which maintains the large suite of bio-actives found in the raw root, leading to a higher clinical efficacy.
We bring you the most balanced concentration of 25% Beta-Glucans with the highest effective dose recommended of 1800mg per serving (3 capsules of 600mg)
TRIIBE only uses Plant Based Vegan Certified Capsules (K-caps) with NO animal-based gelatin, Non-GMO Project verified, and Kosher certified. They are Preservative-Free, Allergen Free, Gluten Free, Sugar Free and Starch Free.

All our products are mindfully made without the use of additives, fillers and binders, and free from adulteration (adding lower quality extracts to reduce costs).
TRIIBE not only brings you a high quality customer service but a personalized assistance to help you with your personal needs or concerns. We will provide you with the community, the knowledge, and the perspectives, to help wrangle the unruly character of the modern living.


100% Money Back Guaranteed
SERVING SIZE: 1800mg / 3 Capsules of 600mg
SERVINGS PER CONTAINER: 40
RECOMMENDED DOSE: Take 2-3 Vegan capsules daily.
As a dietary supplement, does not induce instant response like extracts or medicines. This is because they are digested, absorbed, and utilized like any other food in the body. We bring you the lowest effective dose to easily increase or decrease the dosage depending on your metabolism needs.
We all respond to supplementation differently, not only in how it affects us, but also how quickly it has effect on us. When you first start taking our Lion's Mane Mushroom supplement, we recommend taking the product at the recommended dose (2-3 capsules daily) for a solid 2 weeks before deciding whether or not it's working for you. After two weeks, you might want to increase the dose one capsule more and add it to your morning routine.
Following traditional Chinese Medicine and Ayurvedic methods, we suggest taking the product for 2-3 months and then pause for a few days to give the body rest. TRIIBE ORGANICS Lion's Mane can be taken with or without food.
MINDFULLY HARVESTED,
SUSTAINABLY PRODUCED
TRIIBE ORGANICS' entire production is based on "Green-Chemistry" principles without using alcohol or any other chemical solvents. For this reason we source our Lion's Mane from Nammex, real experts cultivating mushrooms since 1989, who have pioneered the development and manufacture of extracts for the health and wellness industry and they offer guaranteed quality standards based on accredited Good Manufacturing Practices. LEARN MORE ABOUT NAMMEX.
- 100% Fruiting Bodies.
- Water extracted, NO chemical solvents.
- Free from Adulteration and additives.
- Vegan Certified Capsules (K-Caps)
BEYOND JUST MEDICINAL HERBS
We performed an Exhaustive Research to Find the Most Beneficial Ingredients
Supported by Science.
We use specialized, premium ingredients to ensure products flow properly through manufacturing equipment. Also, our manufacturing unit of is pharma-grade, with clean room facilities using world-class production and quality assurance processes. We go above and beyond standard testing protocol to guarantee that the product has the accurate potency, ingredients free of contaminants such as Mold, bacteria and salmonella, as well as testing every single ingredient for Heavy metals.
The manufacturing unit of Tribe Organics is established in the USA. We adhere to the Good manufacturing practice guidelines regulated by the FDA, also known as GMP. In addition to the standard FDA guidelines, our manufacture is third-party certificated, ensuring the quality and safety of the products, also tested for heavy metals and microbiology.

* These claims are related to the ingredient
Very happy with this product
This is my second bottle of this stuff and I am convinced I'm actually getting benefits. There's only a bit of hard research on Lion's Mane as a nootropic but it was enough for me to give it a go. I find myself with a calm and clear mind shortly after I take my evening dose. I am hopeful that over time, there will be some of neurogenesis in my brain too.
High quality, 100% pure, beautiful packaging 👍
Tribe is one of the best small batch natural supplement companies I've had the pleasure jf buying. Third party tested, organic, and pure. I can feel the difference when taking Lions Mane. Capsules are clean and shiny and not covered in powder. The jar is easy to access with a wide lid. I've never had a more pure supplement than this!
Seriously, one of the reasons we have this product is because of Paul Stamets. If you have not seen the movie Fantastic Fungi you should. In the past Paul has mentioned a neurotropic supplement with naicin, lions mane, and another 'ingredient'. Lions Mane can support the recreation/rewiring of neurons/dendrites and removal of amalytic plaque. If you are serious about getting smarter, or at least avoid cognitive decline as you age, you NEED to consider adding Lions Mane. Along with MCT/coconut oil, etc.
For help with mental awareness and anxiety relief....
"The company contacted me and apologized for the confusion. They said they were working on a vegan formulation and would send me some when it was complete. I appreciated the gesture but I certainly wasn't holding my breath. Well, lo and behold, I received 3 bottles of the new vegan formula a few weeks ago! My family has been using them and we really notice a difference in stress and anxiety levels. Amazing customer service, amazing product! Highly recommend!"
When it comes to dietary supplements, there is a major problem with the way most are being produced. Most Dietary supplements contain harmful substances, such as magnesium stearate or silicone dioxide and a long list of others. These added ingredients are used by most manufactures in order to speed up the manufacturing process and save money at the expense of the consumer's health. Yes, you heard me right. Dietary Supplement Companies are putting whatever they consider as safe so they can maximize their profit margins.
In addition to these harmful excipients being added during the manufacturing process, recent studies and close examination of many supplement brands has shown that the potency and dosage that are listed on the supplement facts are not always what you are getting.
With TRIIBE ORGANICS, you can rest assured that our products are 100% free of any harmful additives and guaranteed to deliver the listed ingredients and potency, without putting your health at risk.
Our purity process ensures that you are getting exactly what you are promised. We are willing to significantly increase production times and not cut corners to save on production costs.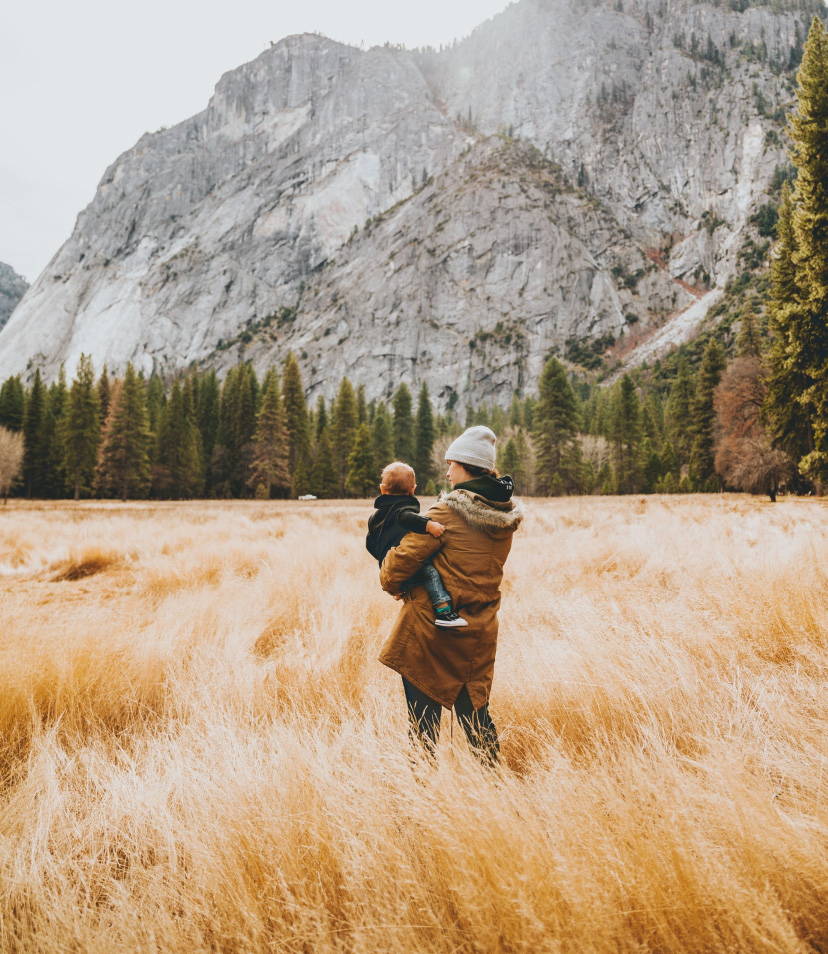 FREQUENTLY ASKED QUESTIONS
Is the product a mushroom powder or an extract?

Although mushroom powders are richer in nutrients than MOG powders, they are still less potent than a concentrated extract. Traditional Chinese Medicine, which has used mushrooms and herbs for thousands of years, almost always makes a tea from herbs. Tea is a simple water extract. Traditional Chinese Medicine practitioners will boil herbs for long periods of time to extract the medicinal compounds.
A hot water extract is a very simple and effective way to concentrate mushrooms and at the same time make them more bio-available. The combined use of alcohol and water is utilized when some important compounds in the mushroom are not water soluble, such as Lion's Mane triterpenoids.
How do I know the amount of the medicinal compounds?

The majority of medicinal mushrooms are known for their active polysaccharides, called Beta-D-Glucans. Take note of whether these compounds are listed and quantified. If they are, make sure they can be supported with actual testing documentation. TRIIBE ORGANICS Lion's Mane is a 100% pure mushroom extract 1:1 with more than 25% Beta-D-Glucans (Hericenones and Erinacerins).
Is this product third party tested?

For sure! All our products are tested by qualified third party laboratories. Especifically, our Lion's Mane is tested for:
- A Complete microbial testing for bacteria, yeast and mold, e. coli, and coliforms.
- Heavy metals analysis.
- Pesticide testing that exceeds USP standards.
- Beta-glucan testing to insure presence of active compounds.
- Ergosterol testing to insure fungal purity.
- Alpha-glucan testing to guard against adulterants and carriers.
- Final organoleptic evaluation.


TRIIBE ORGANICS offers you genuine Lion's Mane mushroom, free from heavy metals and agricultural chemicals. Certified Organic and Kosher, our sourced materials are certified to be the highest quality available in the world today.
Are there any contraindications taking this mushroom?

TRIBE capsules are vegetarian-grade ("veggie-caps") with NO animal-based gelatin, Non-GMO Project verified, and Kosher certified. They are Preservative-Free, Allergen Free, Gluten Free, Sugar Free and Starch Free.
What actually does a full spectrum mushroom product mean?

Generally speaking, this means that the product in question has all the major components of the mushroom present. So an analysis of the product would show a profile that matches the data that is present in major published research or databases.
For example, the USDA has a database of foods and natural products that lists nutritional information based on approved analytical tests. If the product is a mushroom extract, full spectrum would indicate that the naturally occurring components would remain in approximately the same ratio as the mushroom itself.
Full-spectrum Lion's Mane extract, indicates that it is made of 100% fruiting bodies. In terms of quality, fruiting bodies offer a much more effective, high-quality product than a mycelium grown on grain extract, (which is not mushroom).
Where is this product made? Where does it come from?

We source Lion's Mane from Nammex, North American Medicinal Mushroom Extracts. Nammex has worked with Chinese mushroom growers for 20 years, where cultivation occurs in areas in China that are deep in the mountains and far from industrial pollution. This means that TRIIBE Lion's Mane comes from ancient Chinese heartland, the original source of world mushroom cultivation, following a rigorous quality protocol that all products must meet before they are released. This ingredient is USDA Organic certified and then it is 3rd party tested and produced in the United States in a GMP facility.
You can find more information about this ingredient here: https://www.nammex.com/organic-mushroom-extracts/lions-mane-mushroom-extract/
What is the capsule made of?

TRIIBE capsules are vegetarian-grade K- caps ("veggie-caps") with NO animal-based gelatin, Non-GMO Project verified, and Kosher certified. They are Preservative-Free, Allergen Free, Gluten Free, Sugar Free and Starch Free.
What is "100% Fruiting Body"?
The fruiting body is the part of the mushroom that you see, the actual "mushroom". Many companies sell "mycelium on grain" or the "roots" of the mushroom that typically grows underground. The issue is that these "mycelium on grain" supplements contain only trace amounts of the beneficial compounds you're looking for in a mushroom supplement. If you are looking for the real benefits of mushrooms, make sure the supplement is made from "100% fruiting body".
How do I know the amount of medicinal compounds in Lion's Mane?
The majority of functional mushrooms are known for their active polysaccharides, called Beta-Glucans. Take note of whether these compounds are listed and quantified. If they are, make sure they can be supported with actual testing documentation. TRIIBE Lion's Mane is a 100% pure mushroom extract 1:1 with more than 25% Beta-Glucans (Hericenones and Erinacerins).
The most commonly accepted location for the seventh chakra is at the top of the head or slightly above the head. It sits like a crown, radiating upwards, hence its name.
The crown chakra is associated with the transcendence of our limitations, whether they are personal or bound to space and time. It is where the paradox becomes norm, where seemingly opposites are one. The quality of awareness that comes with the crown chakra is universal, transcendent.
When the Crown chakra has an imbalance, it can manifest as being disconnected to spirit, constant cynicism regarding what is sacred. On the opposite side, an overactive crown chakra could manifest as a disconnection with the body always living in your head, feelings of obsessive attachment to spiritual matters and Closed-mindedness.
As we are immersed in the energy of the crown chakra, we feel a state of blissful union with all that is, of spiritual ecstasy. This chakra allows access to the upmost clarity, enlightened wisdom and and feelings of every cell in your body awaken and rejoice!