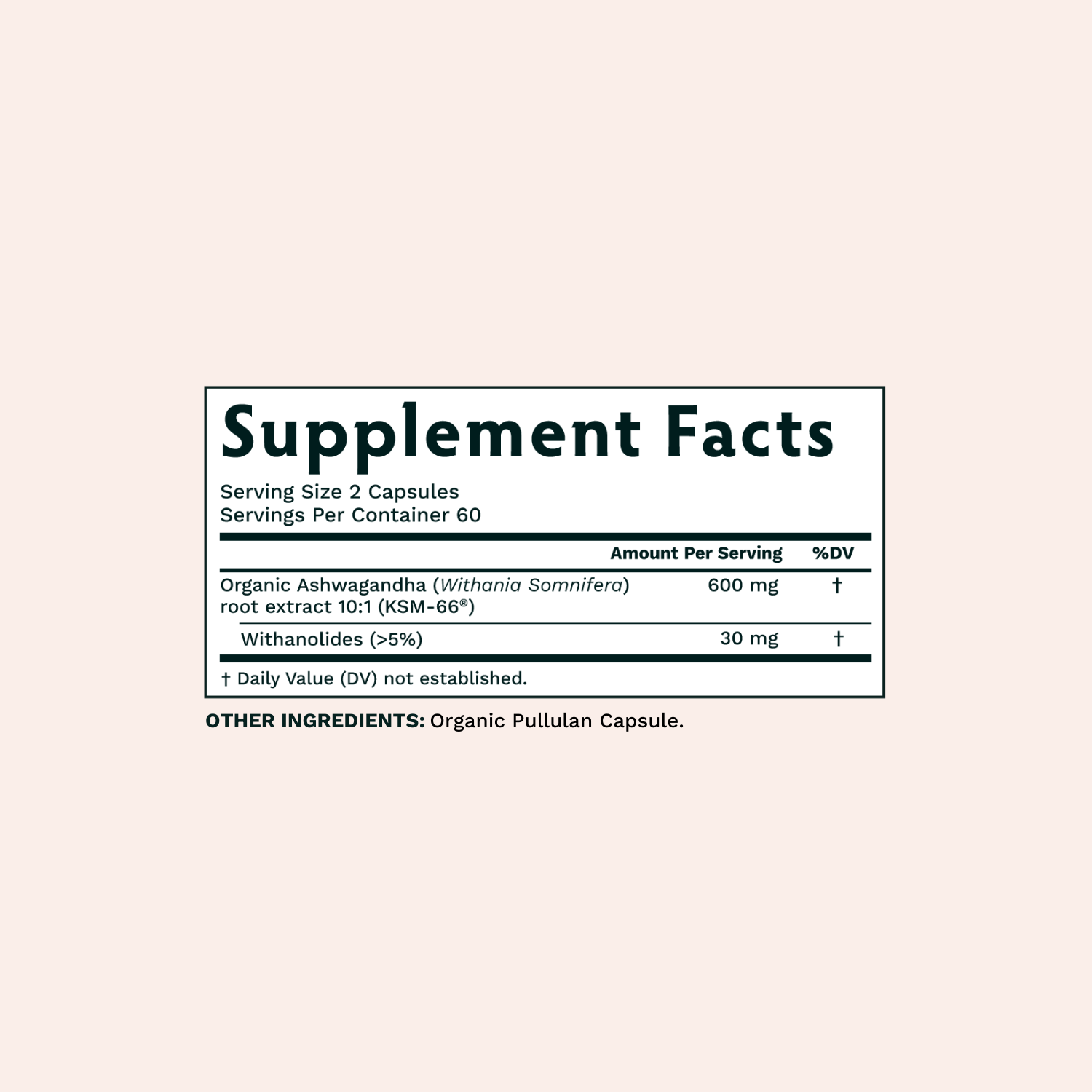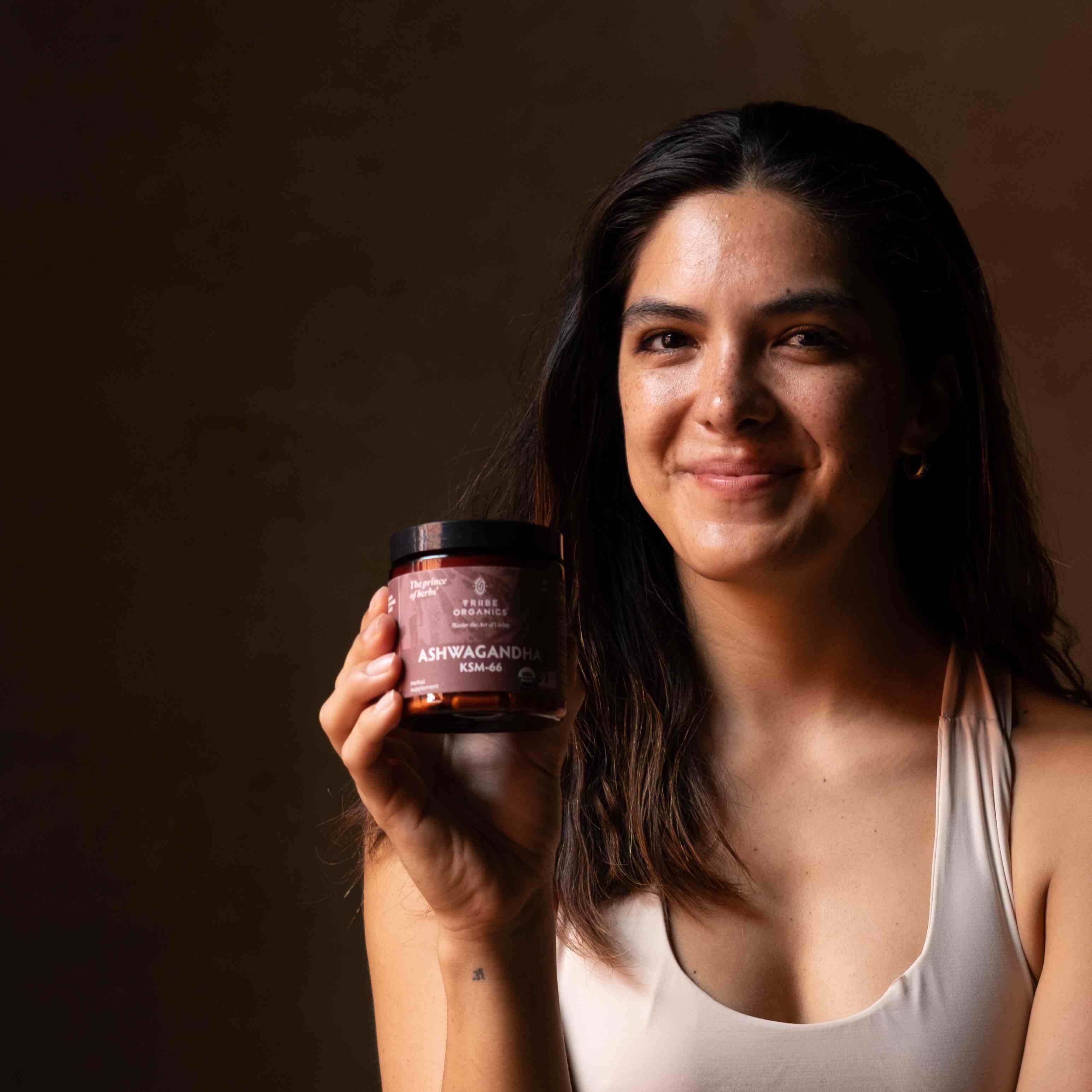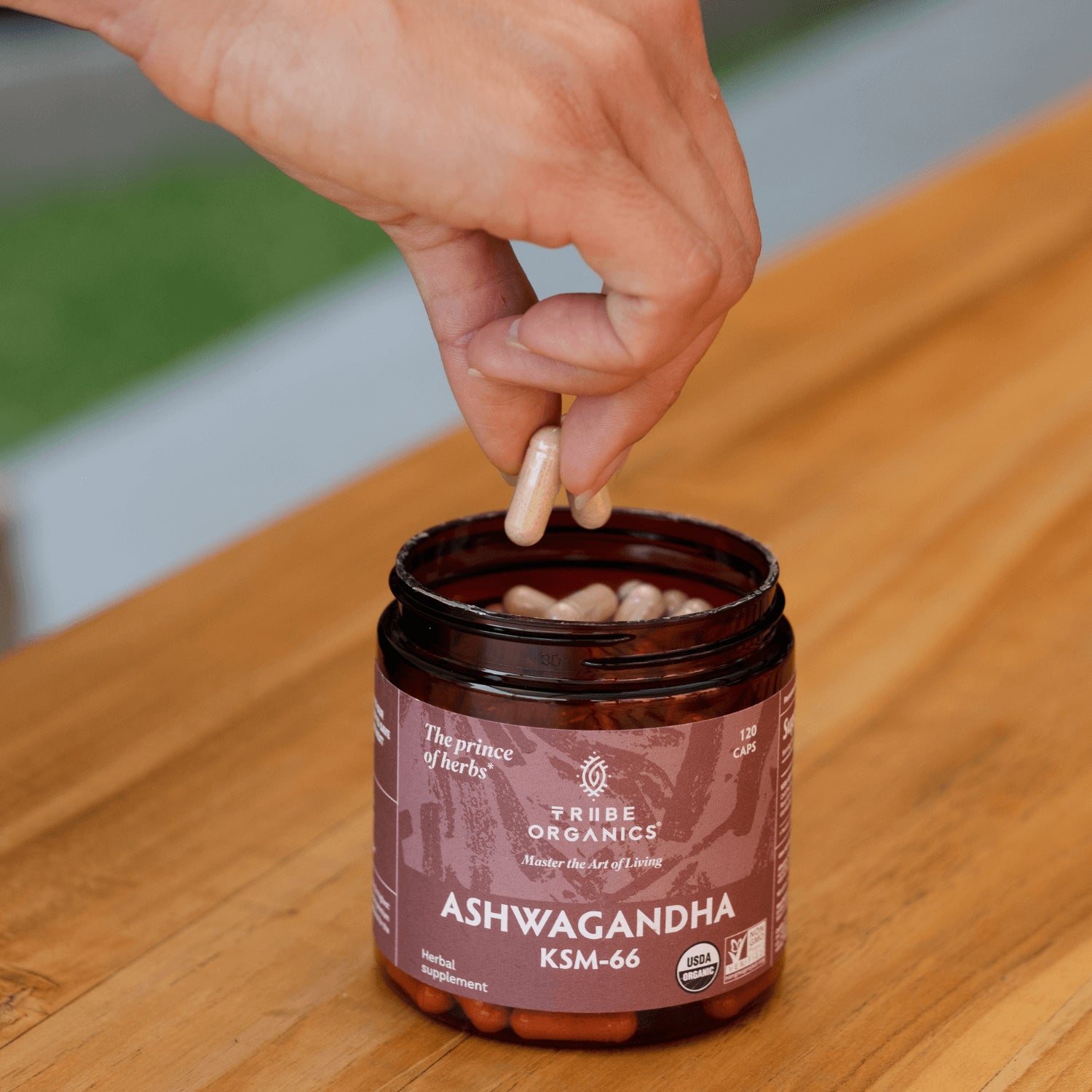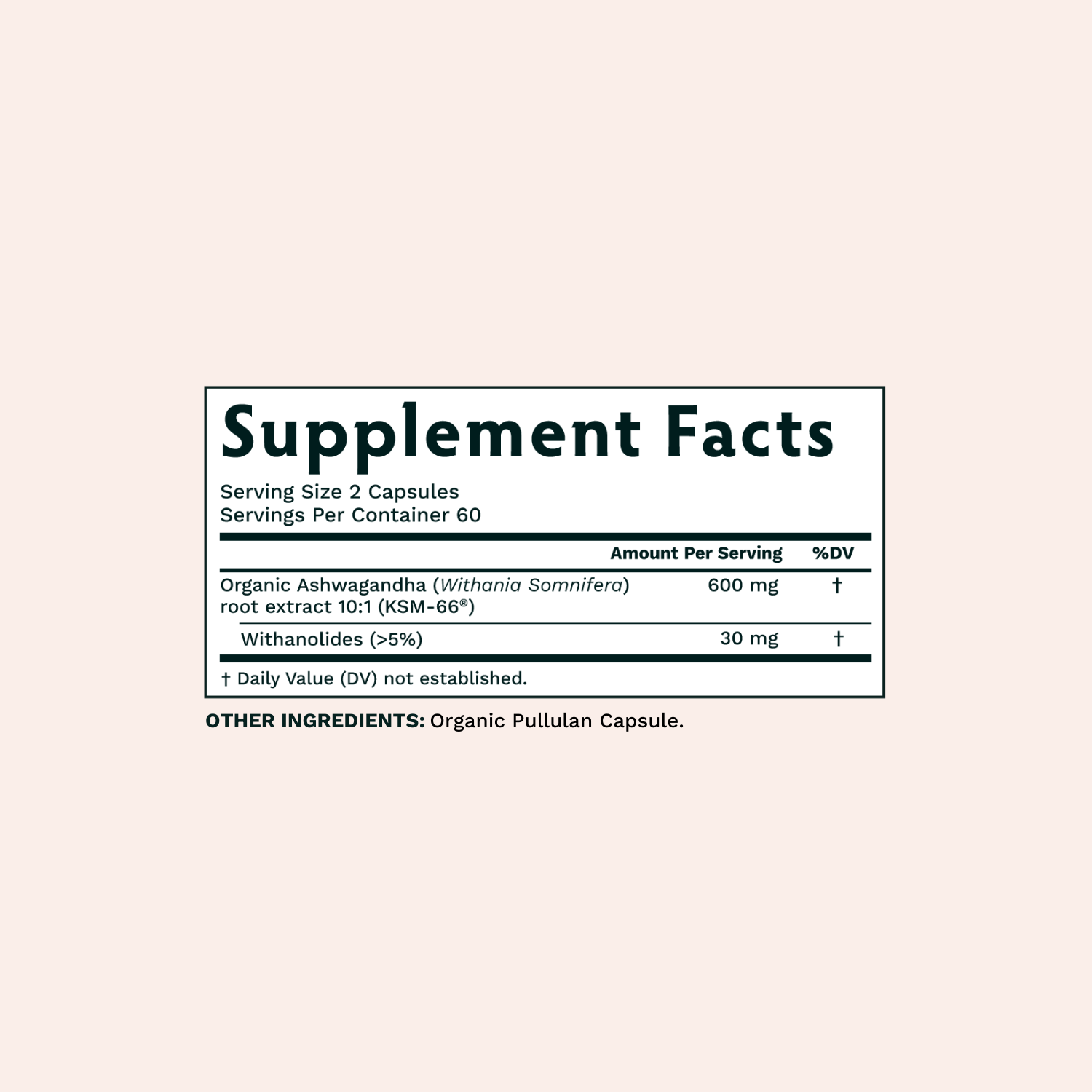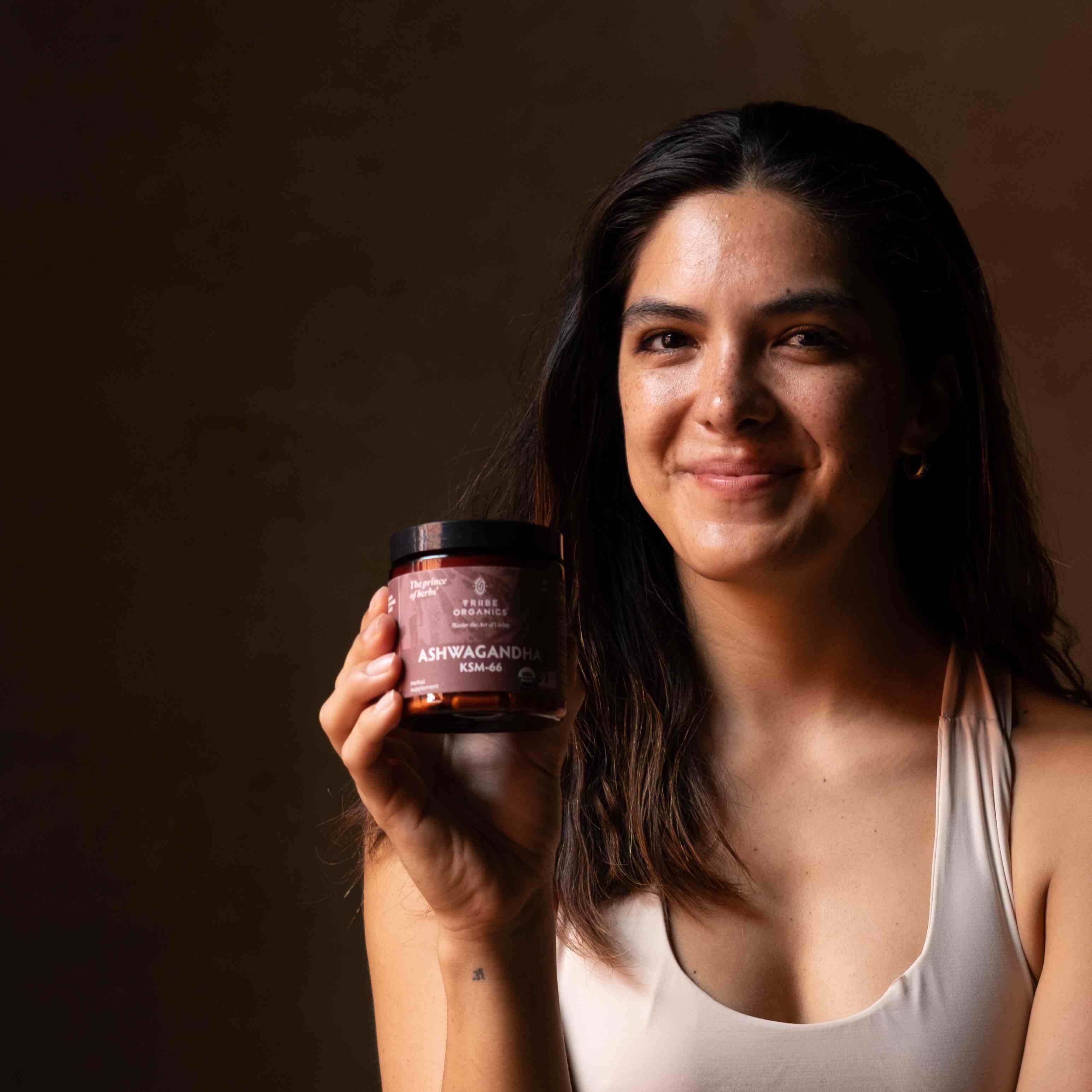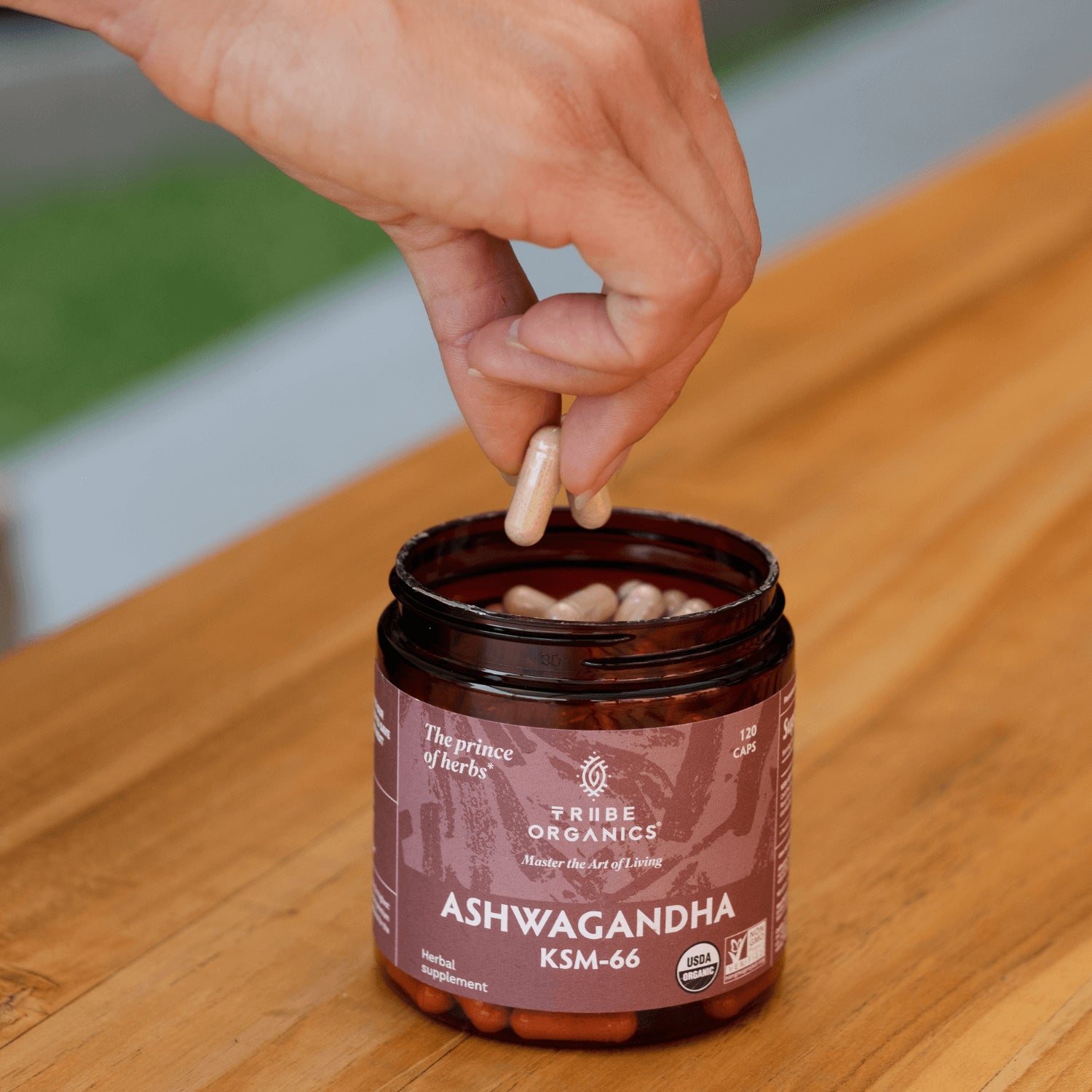 Ashwagandha KSM-66
Ashwagandha KSM-66 Full-Spectrum helps battle away the stresses that the speed of the modern world brings into your life and mind. Big helper to reduce those shakey symptoms by up to 70%. Your mood, energy levels and quality of sleep need to prepare for rejuvenation.
Regular price
Sale price
$35.57 USD
Unit price
per
Please Note: Multi-Packs are not eligible for additional discounts or promotions.
Made in USA with globally sourced ingredients
Third-party Lab Tested
Ethically grown and sourced
No harmful additives or preservatives
Recyclable
Made in USA with globally sourced ingredients
Third-party Lab Tested
Ethically grown and sourced
No harmful additives or preservatives
Recyclable
OVERVIEW
The Prince of Herbs
Withania Somnifera a.k.a. Ashawagandha is very revered herb of the Ayurvedic system of medicine as a Rasayana (tonic). It is used for various kinds of ailment processes and specially as a nervine tonic. Our Ashwagandha KSM-66 capsules aren't just loaded with stress-coping properties but they're backed with over 14 years of research and development. Our Ashwagandha is USDA organic root extract containing a minimum of 5% withanolides.*
Ashwagandha is best known as an adaptogenic herb. Adaptogens are plants with "non-specific" resistance to adverse influences like stress, in other words, they help keep us calm and help enhance the body's capacity to maintain balance in the midst of a variety of external or internal stressors. Including but not limited to; promoting a calmed mind, supporting brain and cognitive function, promoting sleep quality, and (if that wasn't enough) supporting immune health.*
Our version undergoes an extraction process in which it's pre-treated with grass-fed cow's milk, like they do the traditional Ayurvedic way (and of course, we have a vegan version too for our plant based friends). Ashwagandha KSM-66 root extract is harvested naturally in India.
Immune systems find a best friend in Ashwagandha, keeping your active, happy kids in good health (and in school). Putting your mind at ease whilst putting their bodies in the best position to grow the formind immune systems that will keep them safe for the rest of their lives.*
A few bonuses: promotes cell longevity, may facilitate recovery, can encourage testosterone levels in men, supports menstruation and fertility health, supports adrenal and thyroid function. And... breathe.*
Dosage
The Prince of Herbs
Serving Size: 600mg / 2 capsules
Capsules Per Container: 90/120
Recommended Dose: Take 2 capsules daily.
We recommend a two week trial run. Every body is different and every lifestyle has its strengths and its not so strengths. By giving this supplement two weeks as a part of your routine you can get to know each other and then decide whether or not you're a good team.
Natural supplements are designed to add to the already balanced and healthy lifestyles and diets. Variety is really the color of health. Vibrant meals, activities and lives are the best medicine and herbs, mushrooms and roots are just a part of that.
We may not be able to sell you a miracle cure but when you make long lasting changes to your lifestyle, well, that's kind of magical isn't it?
Following traditional Ayurvedic methods, we suggest taking the product for 2-3 months and then pause for a few days to give the body rest. TRIIBE Ashwagandha can be taken at any time of the day with or without food.
Taking inspiration from the wisdom of ancient natural healing is an important way to make sure that the planet is able to nurture our bodies and our minds. That being said, there are some conditions that might just need a doctor. So, If you are pregnant, nursing a baby, or have a chronic medical condition, such as, diabetes, hypertension or heart disease, be sure to consult your doctor or family physician before purchasing or taking any supplement.
Worry not! The prince of herbs is here
Worry not! The prince of herbs is here
Balance | Energy | Vitality
Worry is a natural happening, it teaches us to be weary of danger and it keeps us safe. The modern world is a breeding ground for stress and facing our lives can be scarier than it needs to be. Ashwagandha is a clinically proven method of easing stress, letting you get back in touch with the truth of a balanced instinct.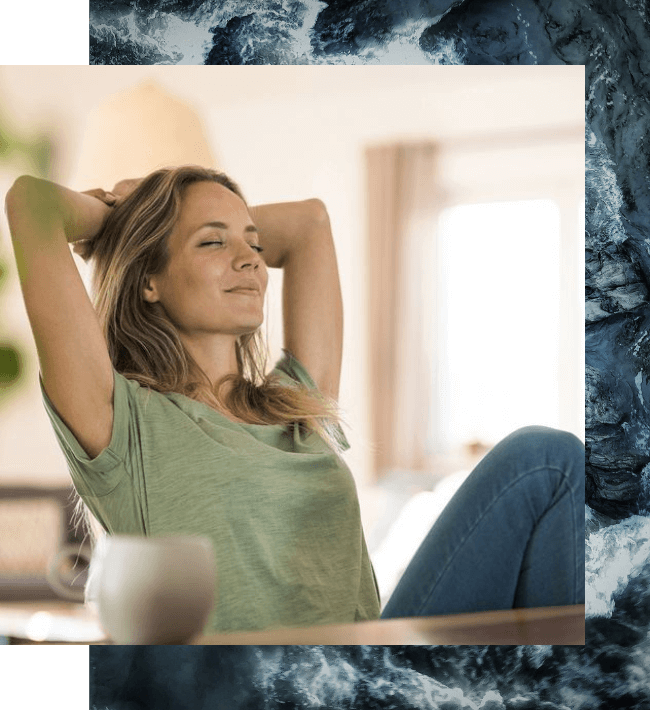 WHAT OTHER CUSTOMERS SAY
We appreciate your feedback John. We are grateful you are part of TRIIBE.
We appreciate your feedback Mina. We are glad to hear that our Ashwagandha is giving you positive results. Grateful you are part of TRIIBE.
Awesome ashwaghanda
I love this stuff. I take it every day and notice a big difference in energy and mood.
We appreciate your feedback Sage. We are glad to hear that our Ashwagandha is giving you positive results. Grateful you are part of TRIIBE.
My Review of the Product After ~20 Days (Long Review).
About ~20 days ago, I ordered the Ashwagandha 120 capsule version after running low on another brand's Ashwagandha (Nature Made Gummy Variety). The package came in on time and in very good condition. One nice thing about the product's packaging is the size. The 120 capsule container is quite small and allows for easy storage and packing for trips.
Now, onto the product itself. The Ashwagandha comes in an easy to swallow capsule form. In addition, there is no odd taste, which is always a plus. The ingredient list is very simple with two ingredients listed. These being the KSM-66 Ashwagandha and the pullulan capsule. The main reasons for why I got this Ashwagandha are the lowering of cortisol (stress hormone) levels, the increased muscle strength, and the increased testosterone. Some of the effects from the Ashwagandha started to appear on the 4th day for me. I felt much more energized in the mornings and this newfound energy lasted into the evenings. In addition, I felt more relaxed than before (I am typically a relaxed person, though the Ashwagandha seems to have increased my relaxation a bit). Thirdly, my ability to lift heavier weights have increased some over the 20 day period. All of the above effects are still present and I have been enjoying this. The larger dose from the Triibe Organics compared to the Nature Made gummies (600 mg vs. 350 mg) works much better. I was not experiencing the benefits from the Nature Made variety, while the benefits from the Triibe Organics variety appeared quite quickly.
Some scientific studies have mentioned potential side effects of Ashwagandha such as nausea, however I have not experienced any of them. This is likely due to the very simple ingredients list as well as the good quality.
TL DR: Very good product. Does what is advertised and is highly recommended.
I purchased the 120 capsule form over the 90 capsule form due to getting 30 more capsules for just a few dollars more. I also got the subscription service, because I want to get more once I run out of the current one. Plus, the subscription service is slightly cheaper than selecting the one-time purchase.
Thank you Triibe Organics for the great product. I will keep buying this as long as you keep it in stock.
We greatly appreciate your sharing your experience with our Ashwagandha KSM-66 Jack! We appreciate so much honest reviews and we love hearing how your body is getting some great benefits already! Thankful to have you as part of our TRIIBE.
We appreciate your review and are grateful to have you in our TRIIBE!
Frequently Asked Questions